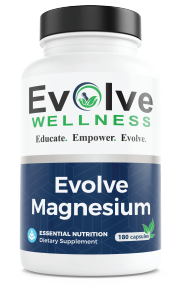 Avant Pharmacy & Wellness Shop
Evolve Magnesium 180ct
Regular price
$42.90
$0.00
Unit price
per
Evolve Magnesium contains three different forms of magnesium to support your overall wellbeing. Magnesium is essential for many physiological processes such as energy production as well as cardiovascular & cognitive function!
Magnesium is an essential mineral, playing a key role in over 600 enzymatic reactions within the human body.
1. Despite the critical role that magnesium plays in human health, data obtained from the 2006-2008 National Health and Nutrition Examination Survey (NHANES) indicates that greater than 50-66% of the American population fails to meet the daily dietary requirement.
2. Additionally, even in instances of adequate dietary intake, one can develop a clinical or subclinical magnesium deficiency related to a medication induced nutrient depletion.
3. These medications include but are not limited to: PPI's, bisphosphonates, diuretics, immunosuppressants and beta adrenergic agonists. For this reason, Evolve Wellness brings you Evolve Magnesium which, per capsule, contains 235 mg of magnesium per serving. Evolve Magnesium contains three reacted forms of magnesium to support absorption while minimizing GI distress.
---